Our Top Tips for Moving with Pets
Being a pet owner is rewarding. There's cuddling, outdoor adventures, treats, the occasional bird-watching, and so much more. But when it comes to a significant change, say moving to your new home, our four-legged friends tend to stress. Preparation and research, like almost all things, will help you and your pet in the long run. Read on for how to minimize anxiety for your pet and keep relocation complications to a minimum.
Before You Move
Before all of the activity starts, think about your pet! Do you have a safe space for them to relax and play away from the chaos? A supervised and secure area keeps them away from moving boxes and scattered furniture. This will help prevent potential injury while reducing their anxiety. Dogs and cats, in particular, like to run outside when doors are being opened and closed. Be wary of any escape paths your pet may take if you decide to keep them at home and freely roaming during your move.
Alternatively, having your furry or scaly friends out of the house ahead of time can save you a world of stress on the big day. Pet sitters, dog walkers, or pet resorts are an easy solution. Check out some great local pet hotels in the area like Oscar's Pet Resort, Dog Sense, and PetSmart!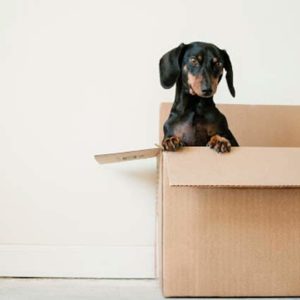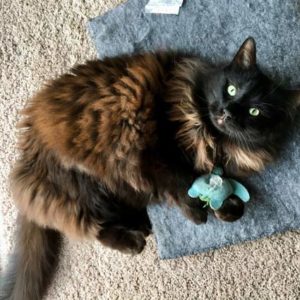 On The Road
Keeping your pets happy and safe while on the road is important too! The American Humane League suggests transporting your pet in a well-ventilated carrier that remains secure in vehicles. While traveling, maintain comfortable temperatures in your car so they don't become too hot or too cold. Extreme temperatures can make your pet uncomfortable or cause car sickness, making the moving process more difficult.
Are you moving to a new state or driving a long-distance? Some pets are better at traveling than others. Cats and dogs are often easier to move with than exotic animals like reptiles or birds. Pet-friendly hotels are a fantastic option when transporting your pets for long periods of time. Just like you, your animals need to stretch their legs, do their business, eat, and hydrate—so, be sure to make frequent stops and pay attention to their unique tells.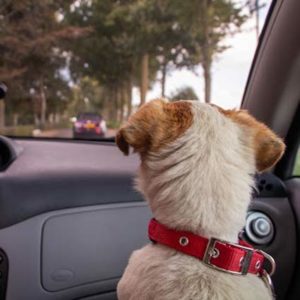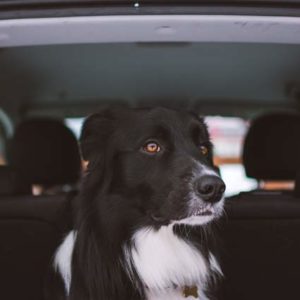 Welcome Home
New places are scary for anyone! Introduce your new home to your furry friend by placing some of his or her favorite items around the house or in the room they mainly live in. For dogs, something as simple as placing their dog bed or blanket in a room can reassure them they're in a safe place. Plus, a few toys around the house will give them something to do and prevent boredom or destructive chewing.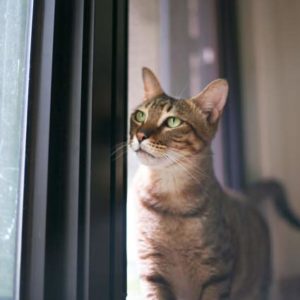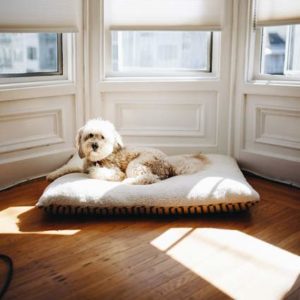 Real-Life Experience
One of our clients, Bernie and Kate, recently relocated with their own Goldendoodle, Murphy! While he's usually a playful and loving dog, he struggles with car sickness during long periods of time on the road. At the time, he was only a year and a half old, so to properly prepare their pup for the trip, we talked through everything that Bernie and Kate might need to make this an easier trip for Murphy. That included packing specific items for the car ride like Clorox wipes, trash bags, towels, calming treats, and medication for longer trips. While it was only a 10-mile drive to their new home, the family still made an effort to adjust their trip to accommodate bathroom needs for Murphy and make dietary changes ahead of time to prevent an upset stomach.
Looking back on the move, Bernie and Kate, were proud of how well Murphy adjusted. On their first day in the new house, Murphy performed a thorough inspection of both the inside and outside of the home which helped him acclimate to all of the new scents in the home. Plus, it helped to do a few walks around the neighborhood and meet some fellow furry friends. Bernie and Katie joked that Murphy acted like he was, "the new mayor in town." While they still dealt with a little bit of car sickness and some anxiety during the first few days, their preparation prior to the move helped make the transition easier for their sweet pup.
If you're planning to move soon, Bernie and Kate highly recommend their dog sitter, Amy, from Amerdamer's Pet Services to help alleviate some of your own anxiety and be a helping hand with your pet. She's able to assist with a variety of different animals, but she's always had a passion for dogs, particularly with puppy mill dogs and shy/abused dogs.
Don't forget to keep these tips in mind when relocating and to readjust your plan to best suit your own beloved pet! Overall, planning will help keep them safe, healthy, and happy. Have more questions about moving? The Jeremy Ganse Team is here to help and answer any questions you may have. Contact us today!