Ironmaster Henry Musselman's Circa 1821 Italianate Summer Home
Marietta:  A Town Rich in History and Significance
In the second half of the 19th and early 20th centuries, Marietta and the surrounding area were home to a thriving iron industry, made up of anthracite iron furnaces, along with the canals and railroad infrastructure that supported them.  This industrial complex was a key contributor to the region's significance as an iron producer.
The furnaces of Marietta featured state-of-the-art technology of the time, using anthracite coal and hot blast to smelt iron ore—a process that predated the use of coke, a purer fuel distilled from coal.  Most of the anthracite coal used in the Marietta furnaces was brought from Northeastern Pennsylvania, at first using the Pennsylvania Canal System (which ran along the Susquehanna River), and later by railroad.   The area was rich in iron ore, which was smelted to make "pig iron," and then used to make rails for railroads, a booming industry.  These natural resources of the area, combined with Marietta's innovative use of technology, helped make Lancaster County a leader in the production of pig iron in Pennsylvania during this period.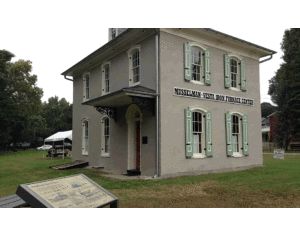 In 1868, Henry Musselman and Henry Miller Watts built what became known as the Musselman/Vesta Furnace. Located in the Chickies Historic District, it was the last of eight anthracite coal-fired furnaces built near the Susquehanna River between Columbia and Marietta, and the last complete blast furnace to be built in Lancaster County.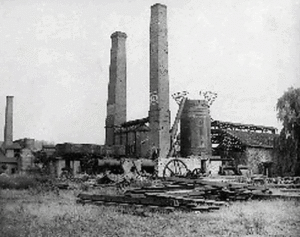 Shortly after the the Musselman Furnace was completed in 1868, Henry Musselman and Henry Miller Watts (who together had also built the nearby Marietta #1 and Marietta #2 furnaces), decided to dissolve their partnership.  They agreed that Henry Musselman would take the new furnace, which he named Musselman's Furnace, and Henry Watts kept the Marietta Furnaces.  Henry Musselman owned the Musselman Furnace until 1879, when he sold it to Watts, Twells and Company.  The furnace remained operational, undergoing numerous updates and remodels under several different owners, until it closed in 1930.  After Henry Musselman's ownership, the furnace was renamed "Vesta Furnace," as the iron it produced was branded "Vesta," and described as "neutral forge and superior foundry iron."
3 E Market St – The 1820s
As an ironmaster, Henry Musselman became quite wealthy.  Besides the Musselman and Marietta #1 and #2 Furnaces, he also owned 119 acres of timberland in Hellam Township (in neighboring York County), and many nearby farms.  These resources allowed Henry Musselman to build a number of homes (eight in all), including a large home in Marietta, built in 1821, that includes a small building on the West side of the home.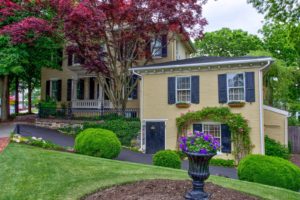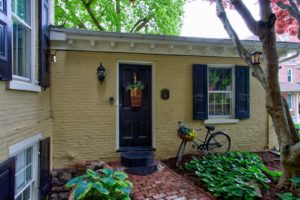 Henry Musselman married Fanny Rohrer in 1821, who together had four children. While their children were young, Henry and Fanny's children were educated by a governess, who lived with the family, occupying the large bedroom at the rear of the second floor.  After Fanny's death in 1828, Henry married Anna Hackman in 1830, who together had six children.
Considered his Summer residence, Henry Musselman designed the home in the Classic Italianate style.  The location required only a short trip to his furnaces in Marietta, and he used the building on the West side of the home as an office where he met with his tenant farmers to discuss business and receive payments.  That building remains to this day, with Lesley, the current owner, having converted it to a charming guest cottage, accessible to travelers as an AirBnB.  Remarkably, ownership of 3 E Market St remained in the Musselman family for nearly 150 years, until 1968, representing three quarters of its existence.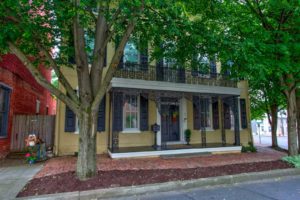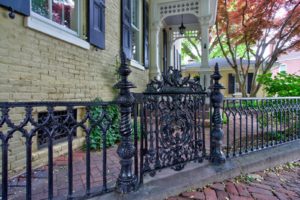 The home was built with a degree of skill, craftsmanship, and attention to detail befitting a business and community leader in the early 19th century.  Two distinct kitchens (including a "Summer kitchen" in the walk-out basement) provided ample space to prepare meals using a large coal-fired beehive oven, with a dumbwaiter providing easy access to move dishes from one floor to the other.  The seven spacious first-floor rooms were heated using a large coal-fired furnace and numerous heat registers throughout the floor.  When it was time for Henry Musselman's family to retire for the evening, a series of valves allowed the family to redirect the heat upstairs to the bedrooms, using pull-chains.  Those pull-chains remain to this day as an example of the state-of-the-art technology incorporated into this historic home.
3 E Market St – The 2020s
Nearly 200 years after it was built by Henry Musselman, 3 E Market St remains as gracious, charming and inviting as when it was built, in large part due to the loving stewardship of Lesley Fregede.  Over the past 12 years, she, along with her husband John, have spent countless days studying, restoring and updating this home, striking a gentle balance of Old and New.
Some of the modern updates include a new natural gas heating system, new attic fan and new roof (all installed in 2012), security system and cameras, a kitchen pellet stove, updated bathrooms, refinished floors, and a bar with a wine cooler and beer tap.  Lesley and John also finished a lower-level room featuring a tiled floor, re-pointed and sealed stone wall, barn siding, and a full-size billiards table, perfect for entertaining, watching a game or just relaxing.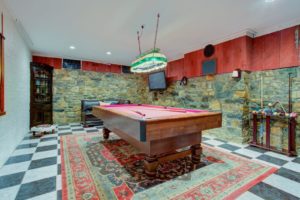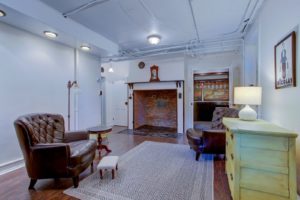 In addition, Lesley and John focused their care and attention on many of the period details that make this home so unique and significant.  Examples include restoration and re-pointing of the rear brick porch, the stone tunnel between the house and cottage, and the chimney and stone wall by the side yard.  They also repaired and rebuilt the side iron fence, repaired windows, and refinished many of the original wood floors throughout the home.  Many of the original light fixtures throughout the home (including the beautiful large chandelier in the dining room) have been carefully restored before they were converted from their original gas to modern electric power.
Lesley and John even added some of their own period-appropriate personal touches to the home, such as the marble sink in the 2nd floor bath that was brought from Italy, and two antique stained glass windows that came from a church in nearby York, PA—one in the guest cottage and one in the Summer kitchen.  The stained glass windows were carefully restored before they were set in place.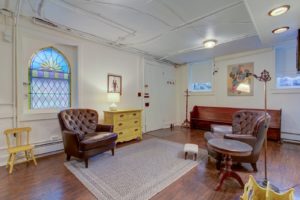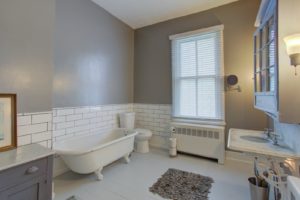 As they've updated and restored the home, Lesley and John also uncovered a number of interesting artifacts from the home and grounds—many shards of pottery and china, even a child's toy marbles, found under inches of soil in the backyard; a copy of the Philadelphia Public Ledger newspaper from 1923 in the attic; wooden tools they believe to have been used to make or repair horse-drawn carriages.  They also came across an intriguing mystery that Civil War enthusiasts would find fascinating:  when Pennsylvania militiamen from Columbia realized they were outnumbered by the Confederates they were fighting in Wrightsville (just across the Susquehanna River from Columbia), they retreated Eastward to Columbia, burning the mile-long Wrightsville Bridge behind them to prevent the Confederate soldiers from pursuing them.  It is rumored that employees of the First National Bank of Marietta (at that time located next door to the Henry Musselman House), still anticipating a Confederate advance, removed an unknown amount of gold bullion from the bank's vault, and, intent on hiding it from the Confederates, buried it somewhere on or near the Henry Musselman house property.  No one knows what happened to the gold afterwards.  Lesley and John said, "we never found it, but who knows if it's still there?"
Lesley and John acknowledge the countless hours they've spent taking care of the Henry Musselman House, but they say it's been a labor of love.  "I just love old homes—I love the character, the deep windowsills, the high ceilings," says Lesley.  "And we feel like we've restored everything we can.  We put a lot of love into this house."  When asked what has brought them the most joy, John and Lesley both immediately said, "Entertaining. People just love to come here."  The home offers extraordinary opportunities for hosting gatherings of all types—both indoors and out—from intimate dinner parties, to large backyard events, and everything in between.  In addition, it offers a generous amount of space to host overnight guests.  The only potential issue?  "They don't want to leave!" says Lesley.
The Next Chapter
As much time and love as Lesley and John have put into the Henry Musselman House, they acknowledge it's time to pass their stewardship of the home to someone else.  Lesley says, "we've taken it as far as we were able to, and now it's time for someone else to take it where they want to—to start a business, raise a family, continue the restoration, or just enjoy a beautiful historic home."  The fine period details of this home live in graceful harmony with the modern conveniences contemporary buyers are looking for—ample space, updated systems, and a classic, thoughtfully-designed layout that offers many options for the next homeowner.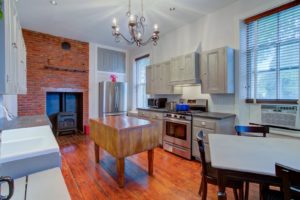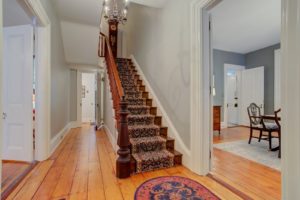 To learn more about this one-of-a-kind home and create your own place in history, contact Jeremy Ganse at (717) 208-0789 or jeremy@jeremyganse.com to schedule your private tour today.